From slaughterhouse to safety
Meet the lucky kitties coming to Los Angeles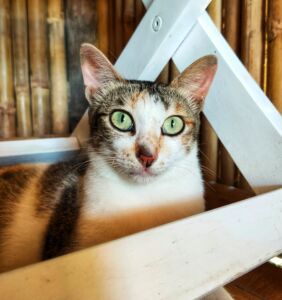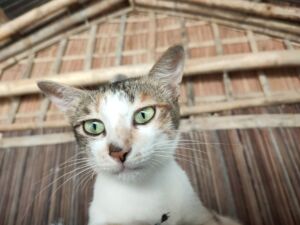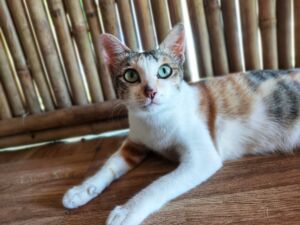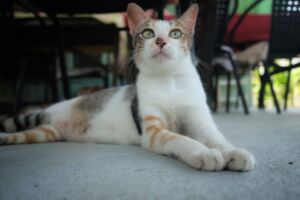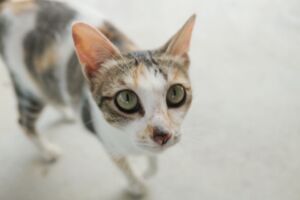 After being rescued, George (age 1) arrived at the shelter partner extremely scared. She (yes, she!) spent the first month hiding behind a blanket or litter tray. Every time the staff entered her cage she would try to bite or cower even further away. The team at Vietnam Cat Welfare spent weeks working with her, initially sitting by her cage talking to her, and slowly she began to respond to her name. She also began to pop her head up and narrow her eyes in a playful response. The team continued, talking more and more to her until she was finally moved into a separate cage to go outside and get some fresh air and where she could watch the other cats. The team was slowly able to touch and pet her very calmly. Then in leaps and bounds, she improved, after that first pet. 
Now she LOVES to play! This was the key in gaining her trust because while George didn't really know how to accept human affection, she knew how to play! Recently she has surprised the entire staff at Vietnam Cat Welfare running and playing with the other cats, rubbing at their ankles for attention. What a sweetheart, everyone is so proud of her and can't wait to help her find the loving home she truly deserves.
Tiger (age 1) is inseparable from his sister Lion. They both are opposites in personality but also similar in many ways. When rescued they were very quiet but not afraid. They were the easiest duo, calm and gentle, maybe since they had each other. Over time their personalities came out. Both love all other cats and not afraid to show their love to others. Both adore attention and Tiger is just a kind soul who loves his tummy rubbed. Both gentle and easy cats and are best friends. These inseparable siblings are looking for the new furever home together.
Lion (age 1) is bonded to her brother, Tiger, and they both love spending time together. Like most siblings, Tiger and Lion have their similarities and differences. Lion is a little bit sassier than her brother,  but they both enjoy attention from people and cats alike.  They were rescued together and have gone through this journey together, so it's only fitting they find their forever home together as well.
The rescue of cat Binh (age 1) was a bit different from the other cats. While the others were rescued directly from the slaughterhouse on December 15th, 2020, Binh was brought to the slaughterhouse by a trader to be killed the day after the rescue.  As the restaurant/slaughterhouse was already closed down, and the owner pledged to never be involved in the trade again, the owner immediately called us.  Despite the logistical challenges (the team was already 3+ hours away!), we had Binh delivered via a private taxi to our bear sanctuary in Ninh Binh where she was united with the other slaughterhouse kitties.  
Binh is a typical naughty Tortie, she is playful and sassy. At Vietnam Cat Welfare, which allows indoor/outdoor access on a fenced-in property, Binh absolutely loves to run and climb up trees and anywhere she can play. She is not the best at getting down though and asks for help often! Binh is quite a solitary cat and although she likes to run among the cats, she doesn't want too much attention from them. She will follow under your ankles and will play with your hands as you stroke her, she asks for love but doesn't quite know how to handle it, as she plays and bites your fingers. Overall a very loving, sweet yet very feisty girl that likes space.
Cody (1) is a very energetic boy and loves to play with the other cats and volunteers. If you do not give Cody any affection or attention, he will make sure he does not go unnoticed and will proactively come and get his lovin'. He loves to sit on volunteers' shoulders as they go about their day! Cody gets along well with all the other cats and is a good laugh, he is just a cheeky chap with bags of character! He loves to play, climb, run and chase!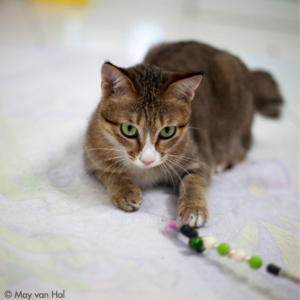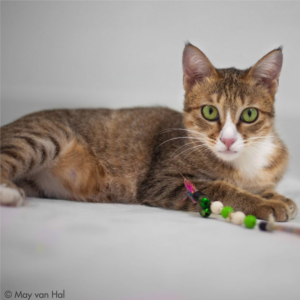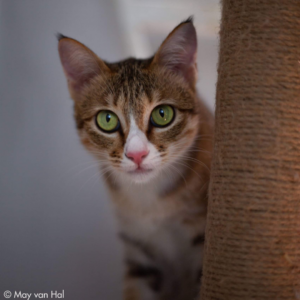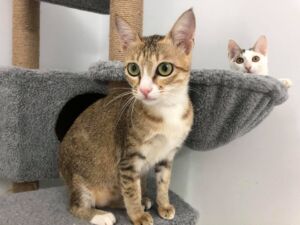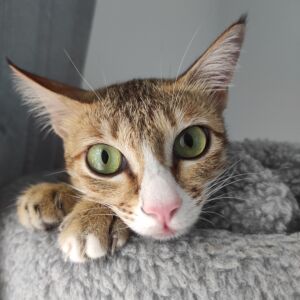 Mittens  (11 months) is talkative, affectionate, and sweet.  From the slaughterhouse, she was placed in a foster home in Hoi An, Vietnam where she enjoyed endless playtime, treats and cuddles in bed. Mittens was initially diagnosed on arrival to Hoi An with a low platelet count (thrombocytopenia) on her bloodwork. After weeks of treatment with doxycycline, Mittens is now a healthy girl and she has come out of her once-timid shell and now loves to chat with her new human friends. 
If you're interested in learning more about Mittens, please email [email protected]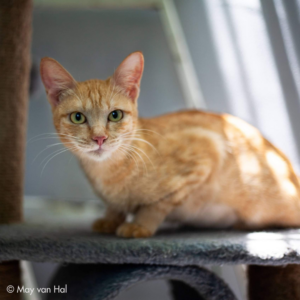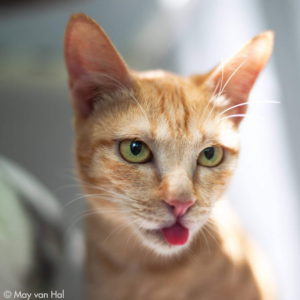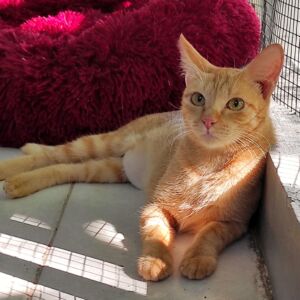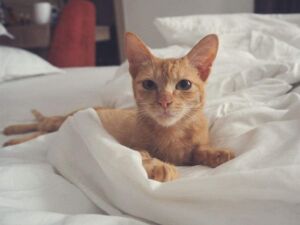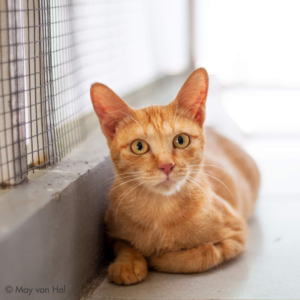 Talula (10 months) was initially quite stressed when she first arrived at the shelter. Talula was prioritized for a foster home, which she went to almost immediately.  The foster home helped increase her confidence and get her used to humans. However, shortly after arrival at her foster home, she stopped eating, was lethargic, and taken to the local veterinary clinic. On bloodwork, Talula was diagnosed with mycoplasma and had to stay at the clinic for several days. After her recovery, this gorgeous lady was taken back to the shelter and began slowly getting in the swing of things. Talula has such a sweet nature and would be perfect in a quiet home. She slowly made other cat friends at the shelter and has starting trusting people more and more.
If you're interested in learning more about Talulah, please email [email protected]
When Cyndi (1) arrived at the shelter following the rescue, she was very frightened and quite hissy. She would try to make herself very small when people approached. She was transferred to a foster home which could provide her with a quiet environment and time to learn to trust humans again.  From the start she got on well with other cats, loving to play with them, but with humans she was slow to trust.  She started sleeping on her foster mom's bed, becoming more relaxed each week. Unfortunately, the foster was unable to care for Cyndi due to a change in circumstances, so she returned to the shelter and is currently a bit overwhelmed, hiding from the other cats. Cyndi will need an experienced and patient home where she can be slowly allowed to relax and trust her new environment. 
If you're interested in learning more about Cyndi, please email [email protected]
📸 © FOUR PAWS | Paws For Compassion | Vietnam Cat Welfare