Family Guy & American Dad #GivingTuesday Goal: $5,000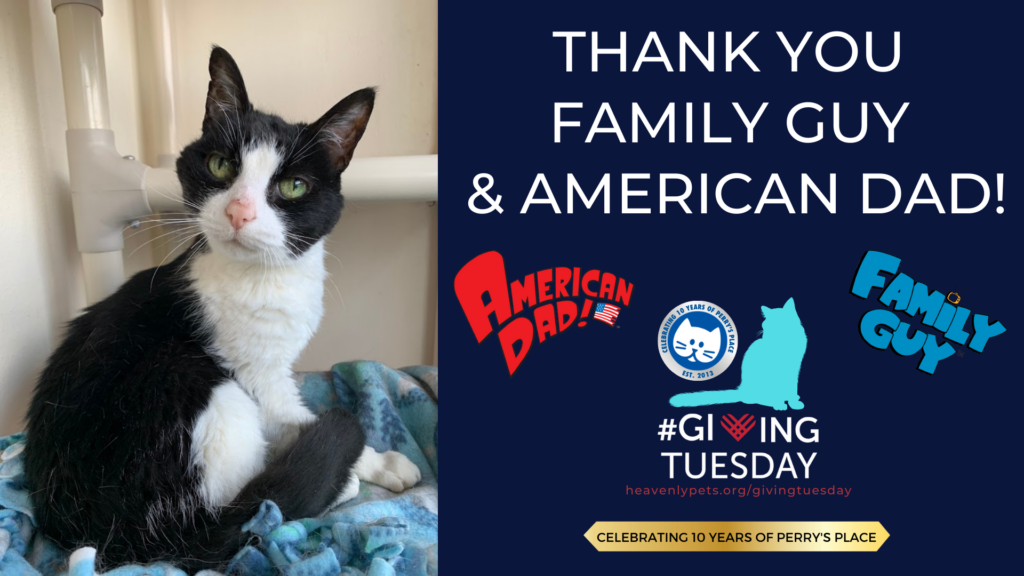 Welcome Family Guy & American Dad!
Created in 2012 as a simple idea, GivingTuesday encourages people to do good. In 10 short years, it has grown into a global movement that has inspired hundreds of millions of people to give, collaborate, and celebrate generosity.
This year we are looking to the future, as we begin to celebrate 10 years of Perry's Place. 
Your Giving Tuesday donation will ensure that we can spend the next 10 years helping rescue, feed, care for, and treat cats and kittens that are in danger and help them find loving homes, together.
Donations must be made before the raffle time in order to be eligible. Names will automatically be entered into all following raffle drawings after gift is made. If you have any questions, please email [email protected].
11:00 AM – Cat Care Pack | Winner: Brinson T.
(Litter Genie, airport-approved cat carrier, plush bed, treats, toys, and other misc. cat supplies) *Must be picked up at Perry's Place
12:00 PM – VIP TOUR of Perry's place | Winner: Annie B.
Come visit Perry's Place and get. special VIP tour where you will see behind the scenes of cat rescue. Tour is for up to 6 guests.
1:00 PM – Name a litter of kittens | Winner: Bruna W.
We are always rescuing kittens, no matter what time of year. Name a litter of kittens whatever you want!
2:00 PM – Mixtile at Perry's Place | Winner: Eileen W.
This season we're decking the halls with Mixtiles, a framed 10×10 photo of your choosing to put up at Perry's Place.
4:00 PM – Kitten Bomb | Winner: Bruna W. 
The individual that donates the most money during the live stream will receive a Kitten Bomb (we bring a litter of kittens to your work, home, or choice of location for an hour).